Are you a budding writer waiting to be discovered? Do you believe in yourself and your work? If so then you have come to the right place. We accept unsolicited manuscripts and are currently looking for new authors to publish with. To give your book a chance of being published by us, please email the required documents or use the form below. Please read the FAQ's if you have any questions.
What happens when I
submit my book?
We aim to review it within 4-6 weeks and make a decision.
If we feel that your book is right for us, we will contact you and discuss the publishing procedure including outline, terms and questions you may have.
We will then send you a contract, and once agreed upon by both parties, you can send us payment to begin the publication of your book. Payment can be made in full or on an agreed part payment plan.
We will then start working on your book and inform you of the process during each stage.
Benefits of
Publishing with Akasha
The chance to see your idea turned into a fantastic book with industry professionals working at each stage of the process.
A chance to make a career out of writing or earn extra money in addition to your main job.
Entry into prizes such as the Booker Prize, Women's Prize for fiction, Samuel Johnson Prize for Non-Fiction, Costa Book of the Year Guardian First Book Award
We organise author talks and book signings at libraries, bookshops e.t.c. so you can meet your fans
Leave a legacy behind you.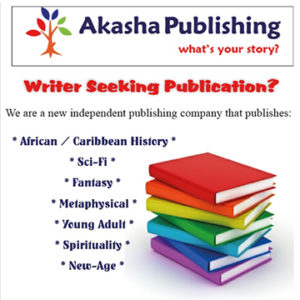 Fiction
* Brief summary *
* Detailed synopsis *
* First 5 chapters *
* Cover letter / Biographical note *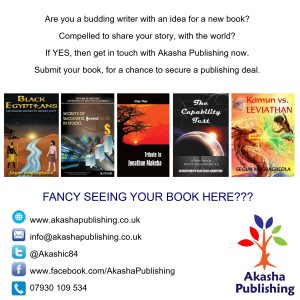 Non – Fiction Work
* Initial pitch *
* Second pitch *
* First 5 chapters *
* Cover letter / Biographical note *
BEFORE YOU SEND US YOUR WORK!
PLEASE NOTE: We are a Self Publishing Company so we charge for each publication.  
Only Exceptional manuscripts willbe published with no fee 
Thank you for your time and patience.
You'll never know unless you try. GOOD LUCK!